Church of the Holy Trinity
Eccleshall is an ancient site of prayer and worship with a living heritage today.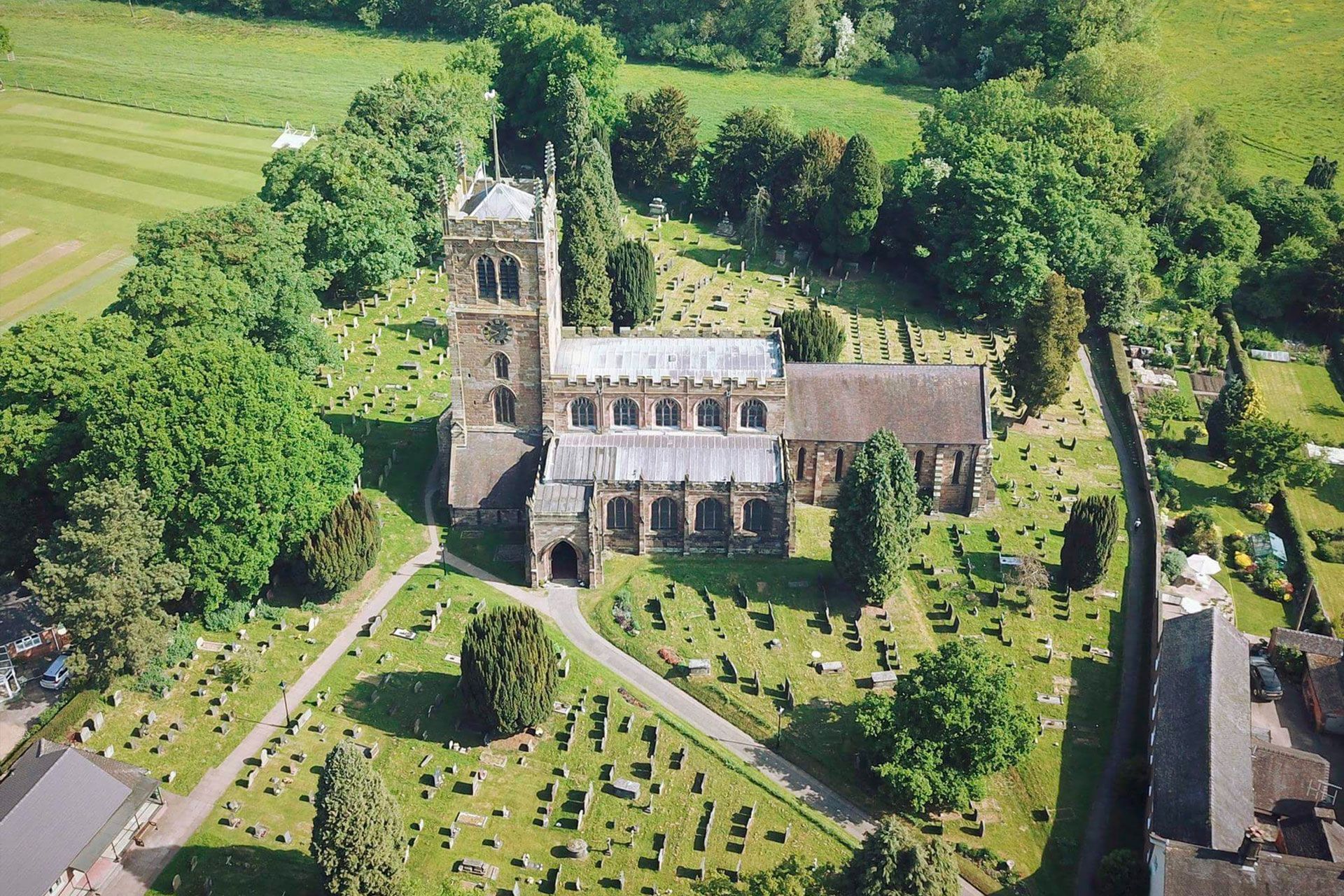 Church of the Holy Trinity
In 1086 it was recorded in the Domesday Book that the 'Manor of Ecleshale was held by the Bishop and that St. Chad once held it'. Chad came to the kingdom of Mercia in 669AD and was ordained the first Bishop of Mercia. He established his episcopal See in Lichfield, becoming the first Bishop of Lichfield. It is believed that a small Norman church was founded in Eccleshall and this in turn was replaced by its present structure, the foundations and pillars dating from c.1189 when Hugo Nonant was Bishop. In 1198 Geoffrey Muschamp became Bishop and he continued work in Eccleshall, both at the church and the Castle. In the 13th century, the old Norman chancel was replaced with one in the Early English style and in the 15th century came the addition of the lovely clerestory of perpendicular design and the tower was raised to its current height. From that time the building has changed very little.
​
Slindon's name is derived from the Old English 'blind' meaning slope of the side of a hill. The Domesday Book referred to Slindone as 'waste with land for 2 ploughs' within the Manor of Eccleshall. St Chad's church was consecrated on 19th October 1894, financed by the local Salt family, under architect Basil Champney. St Chad's has been referred to as 'a chapelry', 'a chapel of ease' and the 'daughter church' of Holy Trinity, Eccleshall.
​
Our heritage is very important to us, but we are also a church family who are committed to enthusiastically telling of God's love to the world we currently find ourselves inhabiting. We are custodians of these magnificent buildings for the generations which will come after, as well as valuing what has come before.

Here are a few things which might be helpful for you to know about us: as Jesus welcomed all people, so we too welcome all people regardless of their background. We're a place exploring how to serve our parish and neighbourhood with acts of compassion, which visibly show God's love, along with expressing justice locally and globally. We're friendly, we will make every effort to welcome you, but we will also try to respect your space. We are a community trying to find new and exciting ways of telling the Jesus story!
Telephone
01785 850351
Email
[email protected]
Visit Website
https://www.eccleshallparish.com
Date
Open all year
Location Address
3 Church St,
Eccleshall,
Stafford
ST21 6BY
Facilities
Accessible
Guide Dogs
Family Friendly
Group Friendly